ESG policy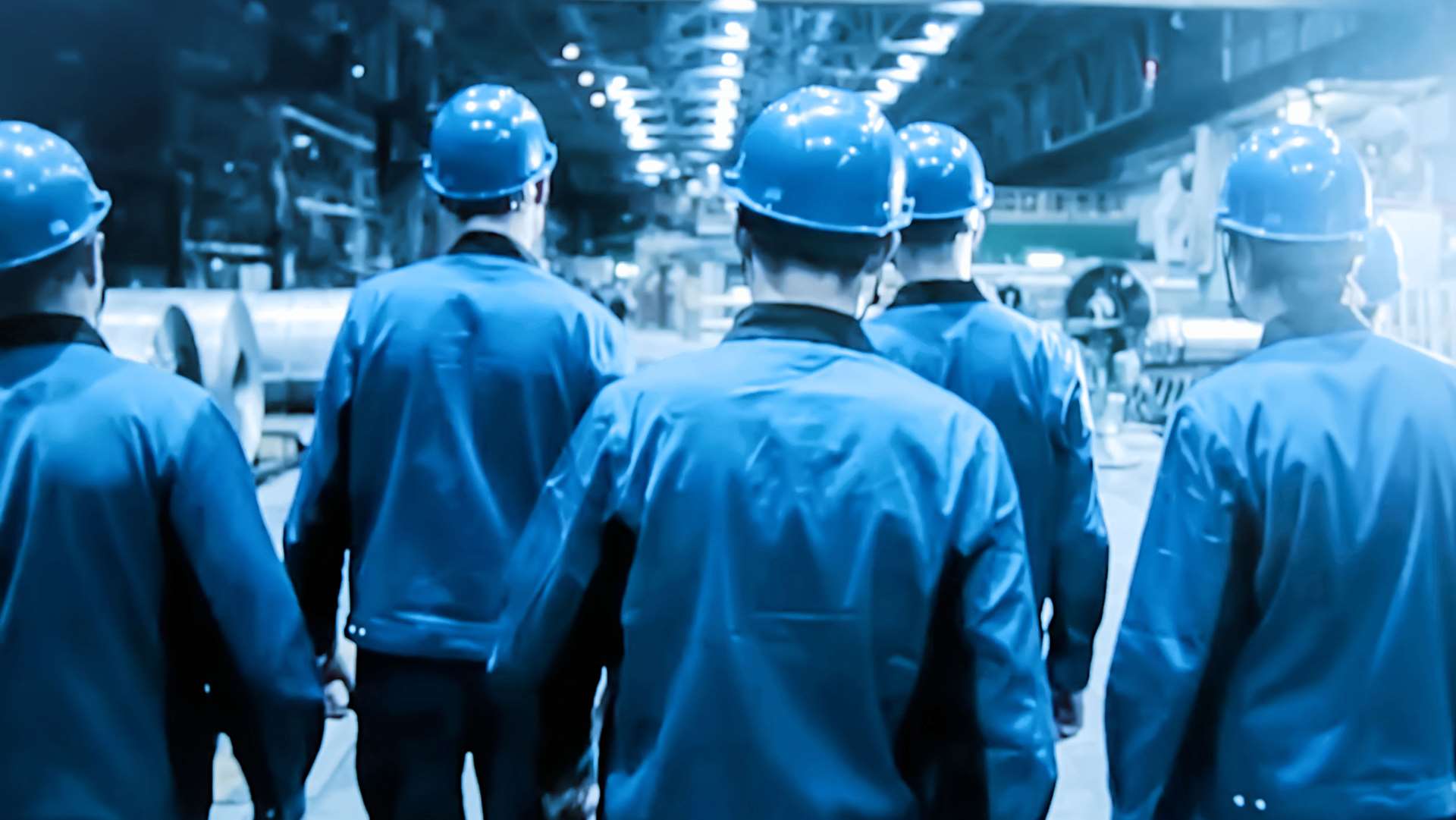 ESG policy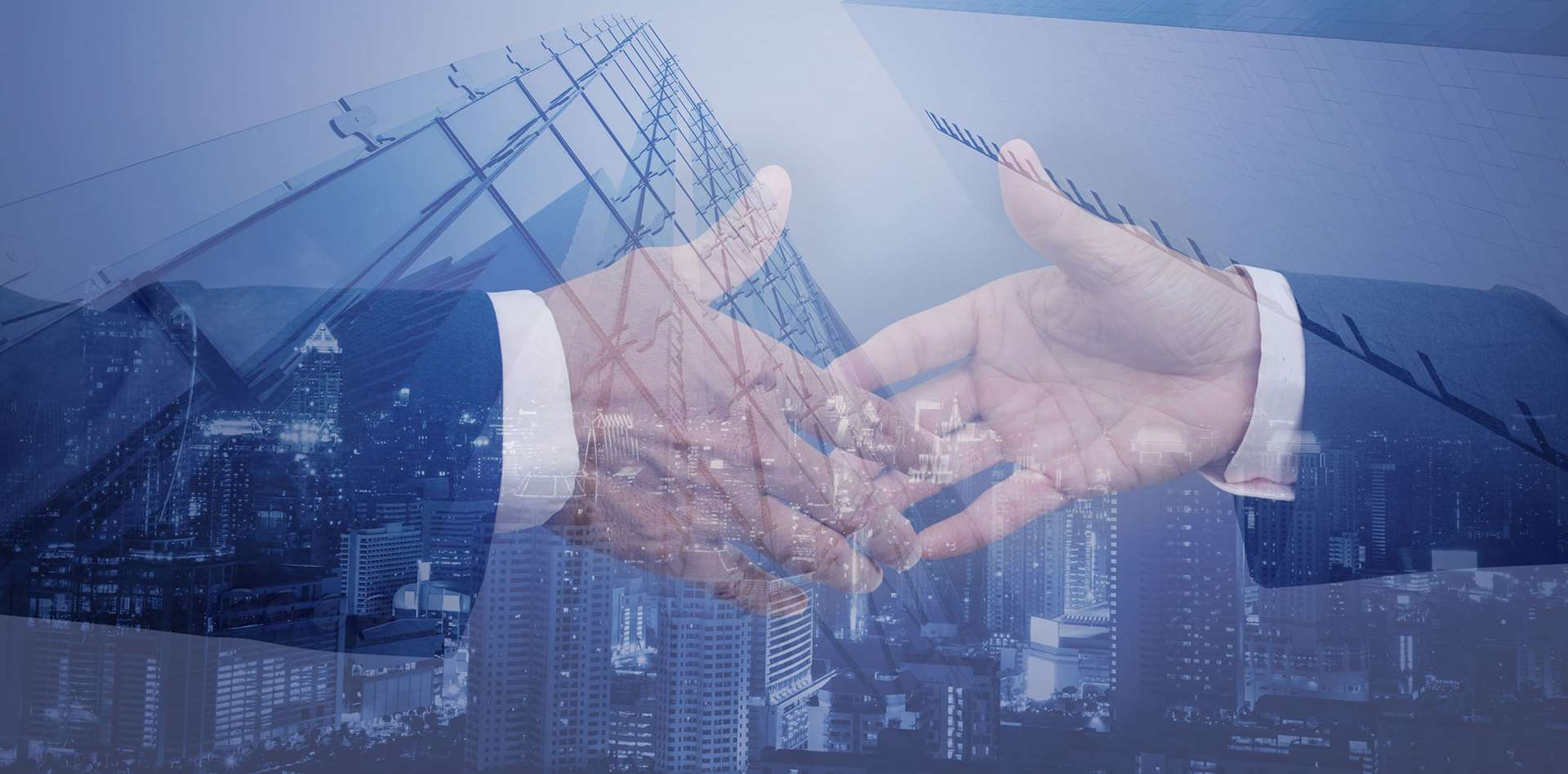 Creafund ESG Policy
At Creafund, we believe that responsible investing is essential for creating long-term value and contributing to a sustainable future for both our clients and the global community. As a sector agnostic evergreen holding that focuses on long-term growth financing and buy-out capital to support mature companies in their expansion, implementing ESG considerations into our investment process should come as a given. When we talk about sustainable growth, it's not just about financial prospects anymore. In order to contribute to the transformational change needed to move towards a sustainable economy, we have to consider the effects our investments have on broader society and local and global environment. This ESG Policy outlines Creafunds commitment to sustainability and how we integrate ESG considerations into our investment practices.
That is why Creafund is committed to the consistent and ever evolving implementation of an ESG-strategy, both for their own day-to-day activities, but also for their portfolio companies. It is not our intention to come across as if we are the perfect student, as we are not. That does, however, not mean that we underestimate the role we play in being part of the solution. It just means that we are learning as we go and have every intention of being up to par when it comes to implementing sustainability measures and becoming the ethical and responsible holding we aspire to be.
Besides doing business in a sustainable way because it is the right thing to do and because of legal obligations, it also provides additional benefits. First, it makes us more attractive for all our stakeholders, from our investors and portfolio companies to a potential new workforce. Second, taking part in this new and improved way of working should inspire others to do the same. This way, we facilitate the transition speed. Finally, recent studies show that it will have an effect on the valuation of our companies, which incurs financial benefits for everyone involved.
Timeline
While we haven't used the terms responsible investing and sustainable investing before, Creafund has acted with great care to make sure that new portfolio companies adhere to elements that, today, could be described as being part of a sustainability strategy, since its inception in 2001. Our extensive due diligence process and our high standards that aim to attract only those companies that have a long-term growth objective make sure that, up until today, we have only invested in businesses that take care of their people, their environment, create value and conduct work based on strong ethics and a sense of responsibility.
However, in order to be able to perpetuate ourselves as a future-proof business, the time to formalize investment objectives and the implementation of a real sustainability strategy has come. That is why we started taking steps in this direction. In 2023 we hired our first in-house sustainability specialist, who, among other things, has been taking account of ESG initiatives already in place, identifying gaps and opportunities, making sense of the dispersed legal field around sustainability obligations, paving the way for the implementation of an ESG strategy and developing a way to score potential portfolio companies on their ESG-readiness, all both for Creafund itself and for its portfolio companies.
To establish ourselves as a business that fits with the future, we need a plan of action, a timeline, on which we can base the next steps. That is why we have decided upon the next initiatives: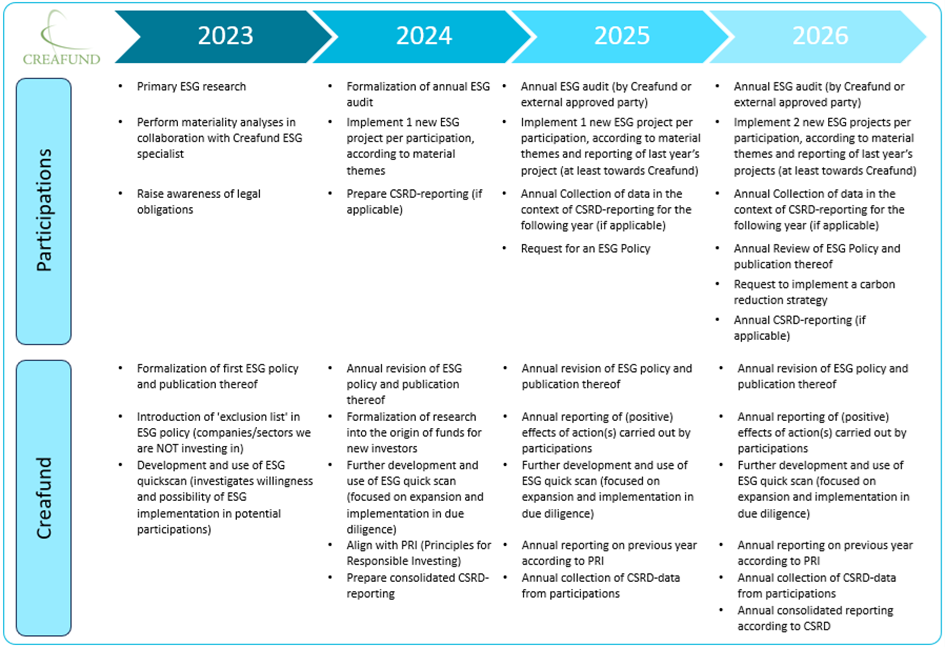 It is our intention to follow this roadmap, but if it occurs that context, new insights or force majeur gets in our way, the timeline will be altered accordingly and transparently.
Sustainability @ Creafund
Because of the nature of our business, the direct impact of our day to day activities is considerably low. Our most material topic (topic that represents an organization's most significant impact on the economy, environment, and people, including impact on their human rights) is that of the impact our portfolio companies have. As we invest in these businesses and co-manage their activities, we are intrinsically linked with their impact on their people, their environment and their governance.
The considerably low direct impact of our daily activities does, however, not mean that we don't have a responsibility to set a clear example on implementing measures to work towards a fairer, cleaner and more inclusive environment. At Creafund, we are committed to improving our own operational sustainability performance, just as much as we are committed to this towards our portfolio companies. In the coming years, it is our intention to not only report on our own efforts, but also always take into account best practices and ways to lower negative impact and heighten positive impact.
As lowering global greenhouse gas emissions is one of the most pressing challenges, we also want to dedicate our operations to become climate neutral over time. We are on the right track as driving hybrid or full electric has become the norm and we plan on making sure our energy is sustainably and renewably sourced. Besides this we believe in an inclusive environment, not because we have to, but because we want to. Personal differences bring interesting perspectives, perspectives that are an asset in a service-driven environment such as ours. We also make sure that our remuneration policy is aligned with out ESG policy, as we encourage everyone to take sustainability risks into account when making investment decisions. Finally, a crucial part in working in an ethical, sustainable way, is to be transparent about how your company operates. That is why we want to make sure that our future sustainability reporting includes all our impact, also what is negative.
Sustainability @ participations
When considering investing in a business, we try to take a holistic approach, one that takes into account sustainability implementation at entry, during ownership and at exit. We do this because it is of importance that all aspects of ESG are considered.
While we are at the beginning of our sustainability journey, it's important to keep in mind that actions implemented during the investment cycle are still limited, but are planned to grow over time, as described in our timeline. Year after year, new actions taken will be added to the revised ESG policy.
At entry
1. When looking to invest in a business, we don't expect potential participations to score a certain minimum ESG-score, there is no threshold of ESG-performance. This is because we prefer seeing lower scoring companies as an opportunity. If we decide to invest in the company, but ESG measures are not up to par, we are in a position to help them transition to the company our society would like them to be.
That, however, does not mean we blindly invest in whatever. We do make use of an exclusion list, that excludes us from investing in certain types of businesses or sectors, as this would contradict an evolution towards a sustainable society.
Exclusion list:
Companies with main activities in countries where it is not allowed to do business
Companies that are active in the weapons or ammunition sector
Companies that are involved in child labor
Companies where more than half of the profits are generated by brown energy
Companies that are involved in pornography
Companies that are involved in (internet) gambling
Companies that are involved in illegal access to electronic data networks
2. Another measure we are implementing is the use of our own ESG quickscan, which is meant to bring to light the possibility and willingness to implement an ESG strategy within potential new participations. For now, the quickscan doesn't shed light on specific KPI's, but it is our intention, alongside the evolution of out total ESG strategy, to make this quickscan more in depth and more tailored to the company being researched.
3. Finally, we do primary ESG research. This means that, based on web search and materials provided by the potential participation, we identify what is already being done when it comes to ESG, but also what could still be done. We identify quick wins to get a head start, if the partnership goes through. This primary research is, however, subordinate to the results of the ESG quickscan, as the companies' willingness and possibility to make sustainability part of their strategy is more important than their current efforts.
During ownership
1. Creafund's role during ownership extends far beyond being a source of funding. We take pride in the way we co-manage our participations, as our approach has shown to deliver successful growth. It is during the stage of ownership that we believe to have the biggest impact on our companies, as we can influence change from within. Because we have an extensive, well balanced and diverse portfolio, we can use best practices from different companies in coming up with the best actions to take in the development of the companies ESG strategy. Going forward, we want to include specific yearly action points, target setting and reporting requirements.
2. At this stage of our involvement in our portfolio companies, we are doing our best to incentivize and bring awareness regarding sustainability as a broader topic. We help with understanding legal obligations, explain the importance of an ESG strategy and make sure that no questions remain unanswered.
3. Finally, in order to decide on what sustainability related topics are important for which company, we set out materiality analyses for our participations. This means that, based on a company's sector, subsector, internal questionnaires and stakeholder involvement, we decide which ESG topics are crucial for them to act and report upon. Going forward, it is our intention to have the participations do this materiality exercise themselves every year, to keep up with what's fundamental to their ESG strategy.
At exit
1. We find joy in creating value, that is why, at exit, we want to leave our participations better than we found them. In order to emphasize a company's ESG performance, we make sure the process of parting ways happens in the most transparent way possible. New buyers are able to make an in-depth ESG assessment, as we make sure all necessary materials to do this are provided.
2. Additionally, potential buyers are assessed, not only by us but also by the company itself, to make sure that the work we have done together won't go lost and they can evolve towards the business they aspire to be, even with the new (co-)owners.